Description
Virtualization for Demand-based Allocation
Virtual Switch Unit 3.0 (VSU)
The RG-S7800C Switch Series supports the Virtual Switch Unit 3.0 (VSU). The technology can virtualize 2 devices into one logical unit, which largely minimizes the number of network nodes and reduce maintenance workload. Superior 50~200ms link failover ensures smooth and uninterrupted transmission of key services. The RG-S7805C Series switch supports cross-device link aggregation for easy double uplink to server/switch, effectively maximizing bandwidth investment return.
Virtual Switch Device (VSD)
The RG-S7800C Switch Series supports VSD in which one device can be virtualized into multiple virtual units. Each virtual unit has a unique configuration management interface and independent hardware allocation (e.g. storage, TCAM, and hardware forwarding table). All the features support restart with no impact on other virtual machines. Users can realize network resource allocation based on different needs. Resources of the core switch can hence be shared with other domains and users. With the enablement of both VSU3.0 and VSD, the switch satisfactorily delivers complete resource pooling.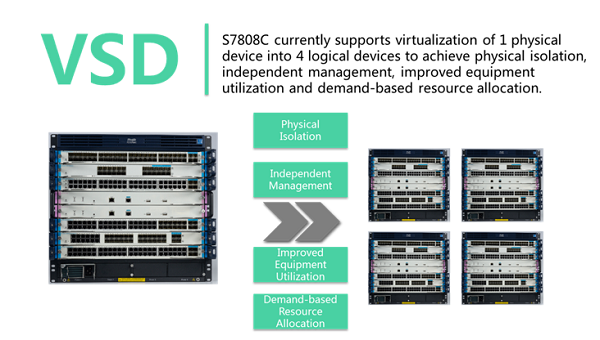 Carrier-class Reliability
The redundant design of the RG-S7800C Switch Series key components delivers excellent protection: control engine power and fan modules all support 1+1 redundancy. All redundant components are hot-swappable to maximize reliability and availability. Hot patch technology is also supported to enable online upgrades.
Support GR for OSPF/IS-IS/BGP and BFD for VRRP/OSPF/BGP4/ISIS/ISISv6/static routing to enable the fast fault detection mechanism of different protocols. The feature minimizes the fault detection time to less than 50ms.
Multi-processing Modular Operating System
Since 1998, Ruijie has been investing on the R&D of modular operating systems. The RG-S7800C Switch Series software platform is designed based on the next-generation RGOS 11.X multi-processing modular operating system to integrate the service features such as loosely coupled firewall, wireless, and authentication into a unified cloud network operating system. The RG-S7800C Series software platform also supports full virtualization and offers rich data center and campus network features. The key availability indicators such as multi-processing modules, process backup and hot patch have reached the industry-leading level.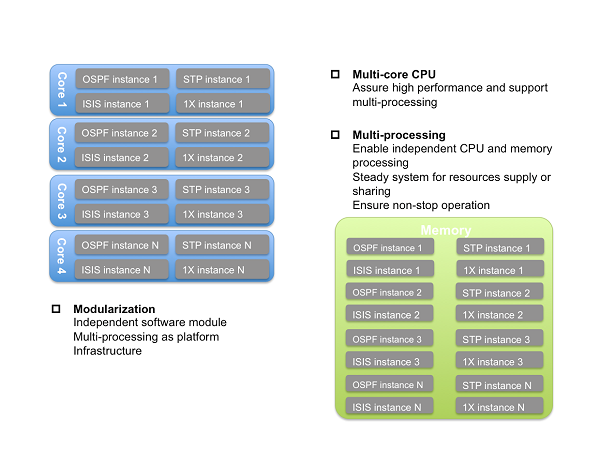 Excellent Energy Efficiency
The internal system is designed for low voltage power supply with high-efficiency modular power to form a more efficient power supply system. The multi-core CPU supports dynamic power management with all Ethernet copper ports implementing the Energy-Efficient Ethernet (EEE) standard to save power under light load.
The intelligent fan supports 256-speed modulations with precise temperature control, energy saving, and noise control. The device can function at high temperatures for a long period of time or in harsh environments. The RG-S7800C Switch Series thereby helps clients to maximize savings on air conditioning.